Staff Favorites at Brainfood
The wonderful thing about the Brainfood family is that it is ever growing. Every youth participant, volunteer, staffer, Board member, Guest Chef, and community supporter who has ever walked through Brainfood's doors (literally or figuratively) remains part of the family. Yet each new face is welcomed with undiluted excitement.
The same could be said for recipes, curriculum, and activities in Brainfood programs. Some recipes have been staples in our first-year Kitchen All Stars program since its inception, while we continue to experiment every year with new additions. Returning participants in our Community MVPs program are seasoned veterans when it comes to dicing an onion "the Brainfood way," but they consistently take on challenges and work to present new healthy cooking workshops throughout the city.
In the spirit of celebrating both the tried-and-true and the yet-to-be-discovered gem, I recently asked our Brainfood instructors to recount their favorite Brainfood class to teach, sharing what makes it special, in addition to a favorite Brainfood recipe or two. Here's what they had to say: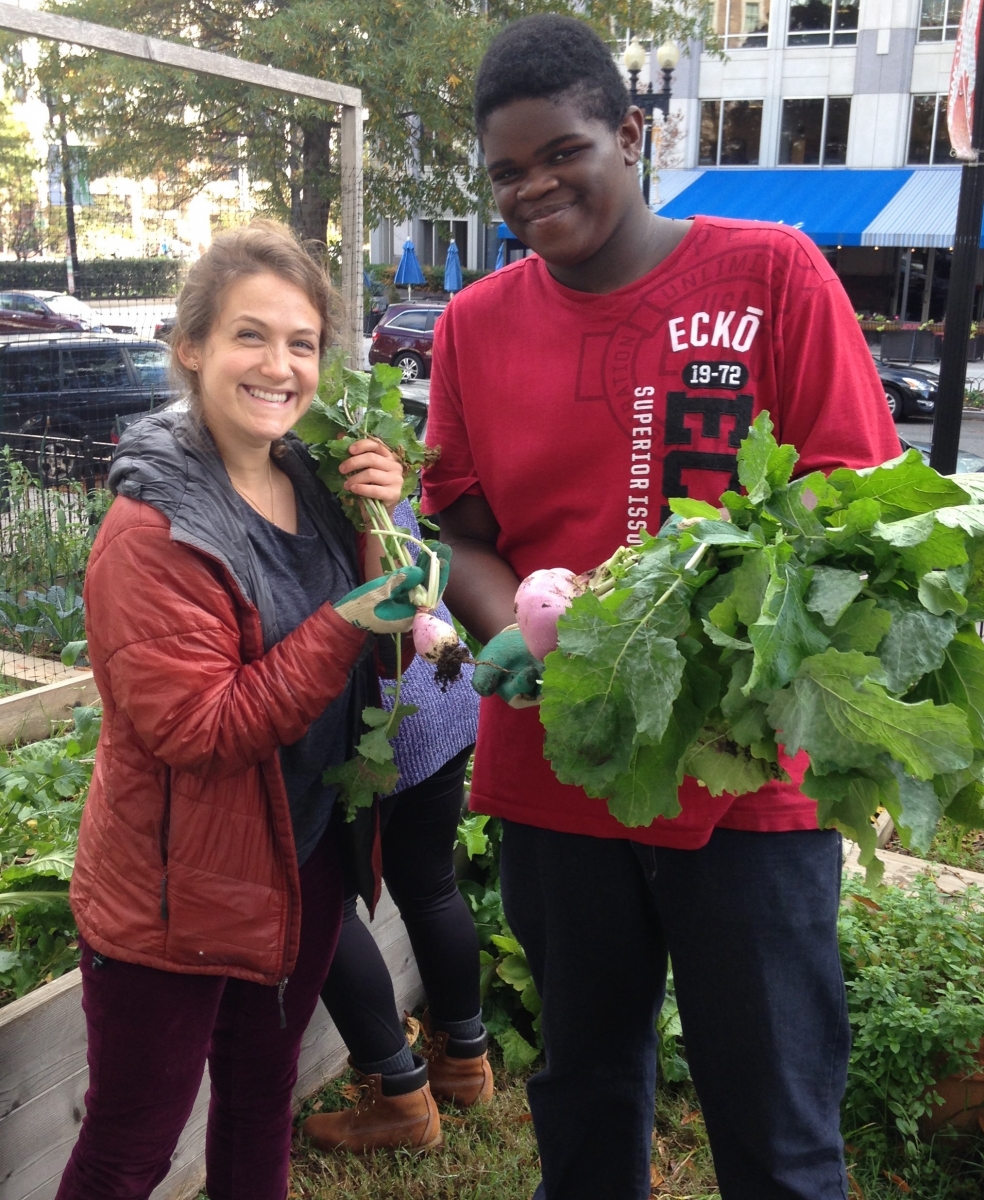 Nina Bryce, Kitchen All Stars Program Coordinator
My favorite class to teach is Vegetarian/Vegan Day. As a former vegan, former vegetarian, and current "flexitarian," I find dietary choices surrounding animal products endlessly fascinating, and I love facilitating conversations related to this theme. I love sharing my reasons for reducing my meat consumption, discussing the challenges in choosing plant-based foods, and hearing from students about their experiences and views on this topic.
My favorite recipe would have to be latkes. It's the one time we make truly fried food in KAS, which tends to make students happy, and it's personally resonant for me because of my Jewish cultural background. It's a nice mixture of familiar (every year at least one student comments that it's kind of like hash browns) and unfamiliar (sour cream and applesauce toppings usually get some raised eyebrows) and tastes delicious every time!
Carina Gervacio, Brainfood Program Director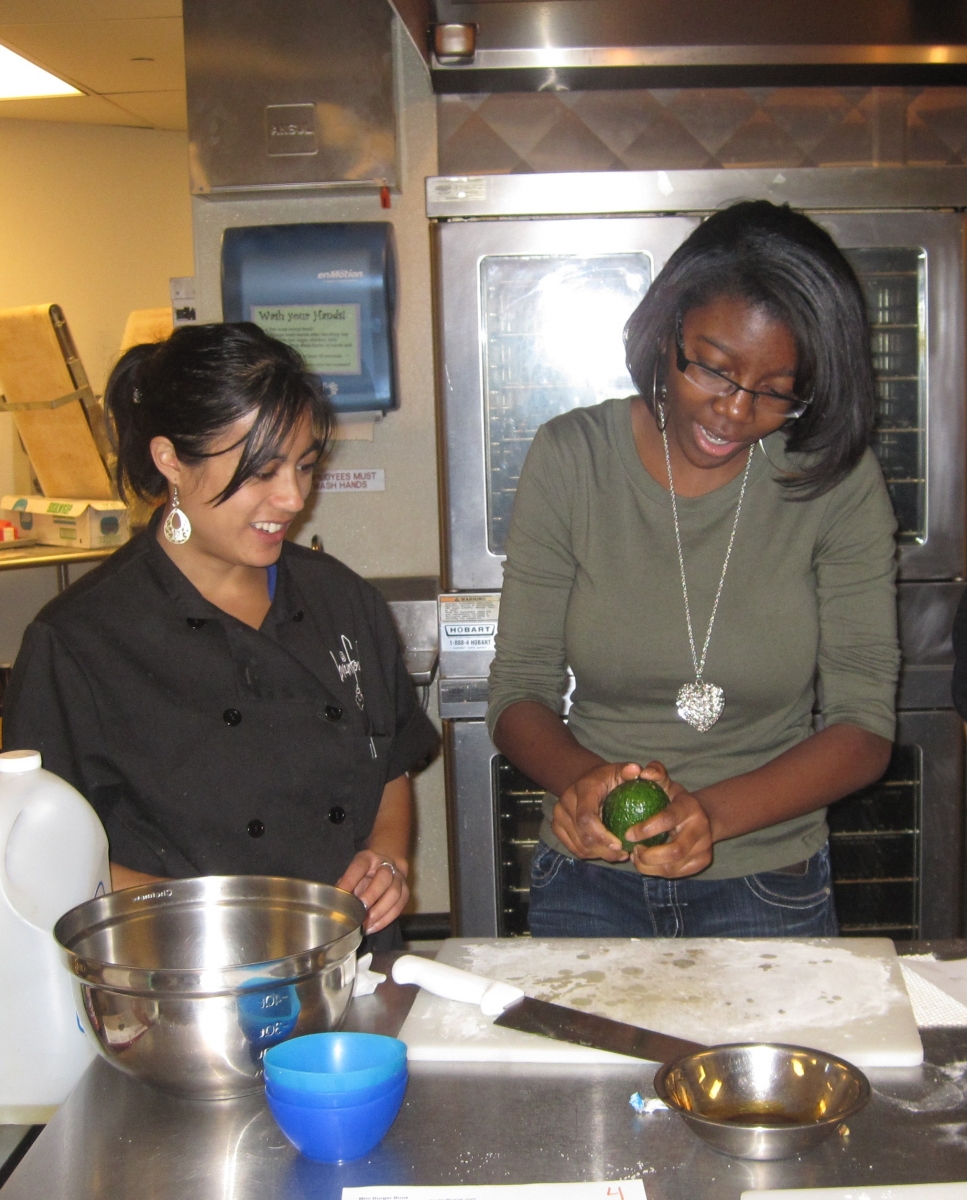 Favorite class to teach: any class involving dough. Kneading pizza dough, braiding challah, and rolling pasta dough are all super tactile processes that showcase the fact that great food doesn't have to be delicate or complicated. They involve the use of the metaphorical "elbow grease," and they give students a chance to physically form their own food.
Favorite recipe: challah dough. It's tasty, the end product is beautiful, and it's very forgiving. Making challah is also a process that reminds me of the first time I learned about challah. I was having breakfast at a friend's parents' home, and his mother casually served me some warm bread straight from the oven. It was pillowy, rich, and topped with poppy seeds, and it was the best thing I'd eaten in a year. The more I learned about the place that challah occupies in Jewish tradition, the more I realized that it reminded me of Brainfood and how we braid together our work and our time as a community. Now, every time another Brainfood student enjoys this recipe or asks to make challah again, I think about the sweetness of unplanned discoveries.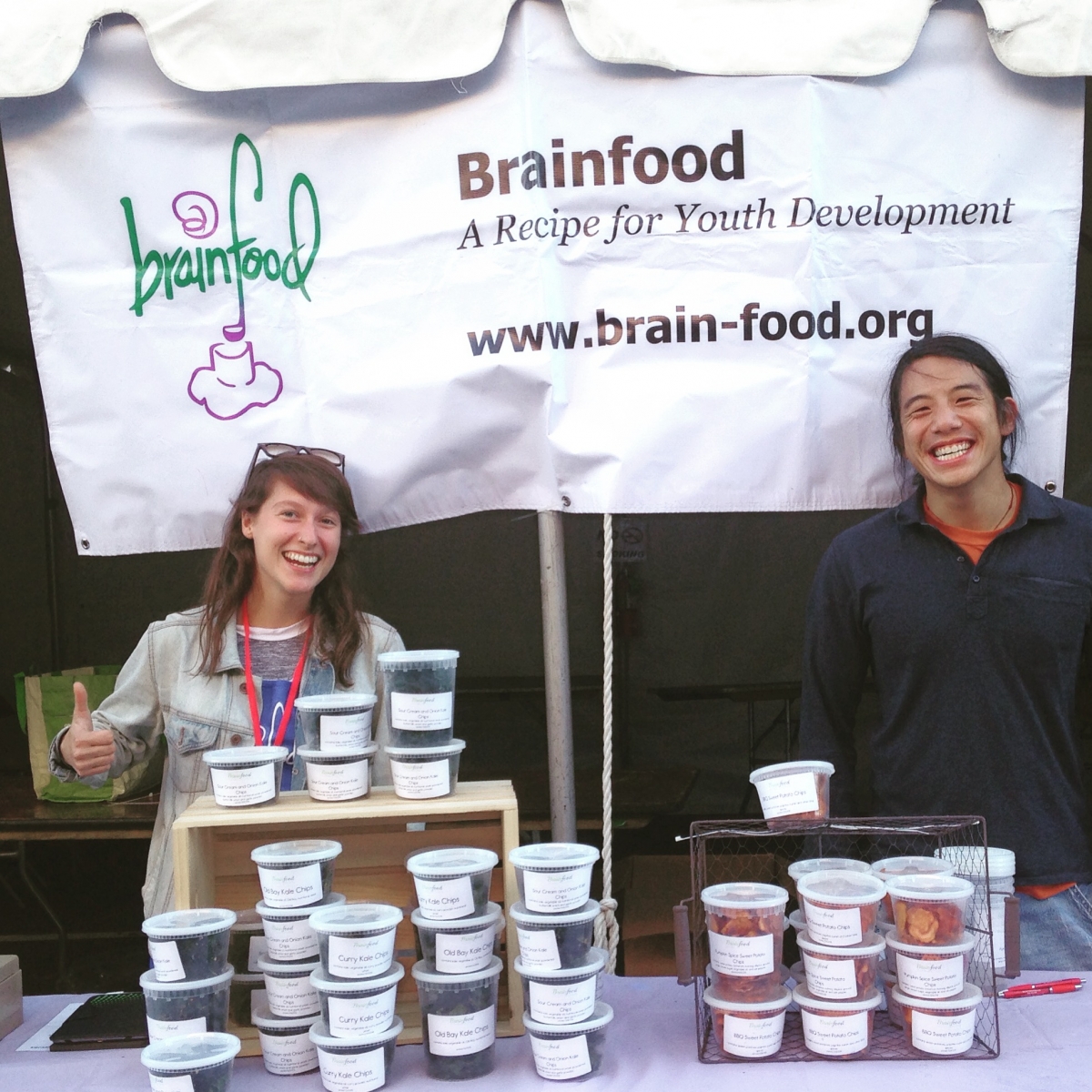 Lyssa Houser, Garden Manager
Last year, the Summer Institute class visited the Penn Quarter Farmer's Market. Before the field trip, we did an activity in which small groups of students designed their own vendor stand with a brand, logo, and business model. It was really fun to see our students creatively think through products they would want to sell, how they would market their brands, and where they would ideally set up their stand. At the market, our students explored, interviewed farmers and vendors about their products and work, and created a snack on a budget for the entire class to enjoy. For many of our students, it was their first visit to a farmer's market. It was cool to see them so engaged, confident, and purposeful in an unfamiliar space, and they put together some delicious snacks despite the challenging budget and theme requirements we set for them.
My favorite Brainfood recipe is Greenies because they represent a link between all of my favorite things about food: it's a recipe that was passed down from a Brainfood teacher's grandmother; they provide a great way to incorporate a lot of garden vegetables into something that our students love; they're quick and easy; and you can cook and eat them using minimal supplies (meaning less clean-up!). I also have to mention our green tomato cupcakes because they are the first Brainfood recipe I ever tasted, they are surprising and delicious, and they were a force in motivating me to figure out how to join the Brainfood team before I was familiar with the organization.
Amanda Kirsch, Program Associate at Columbia Heights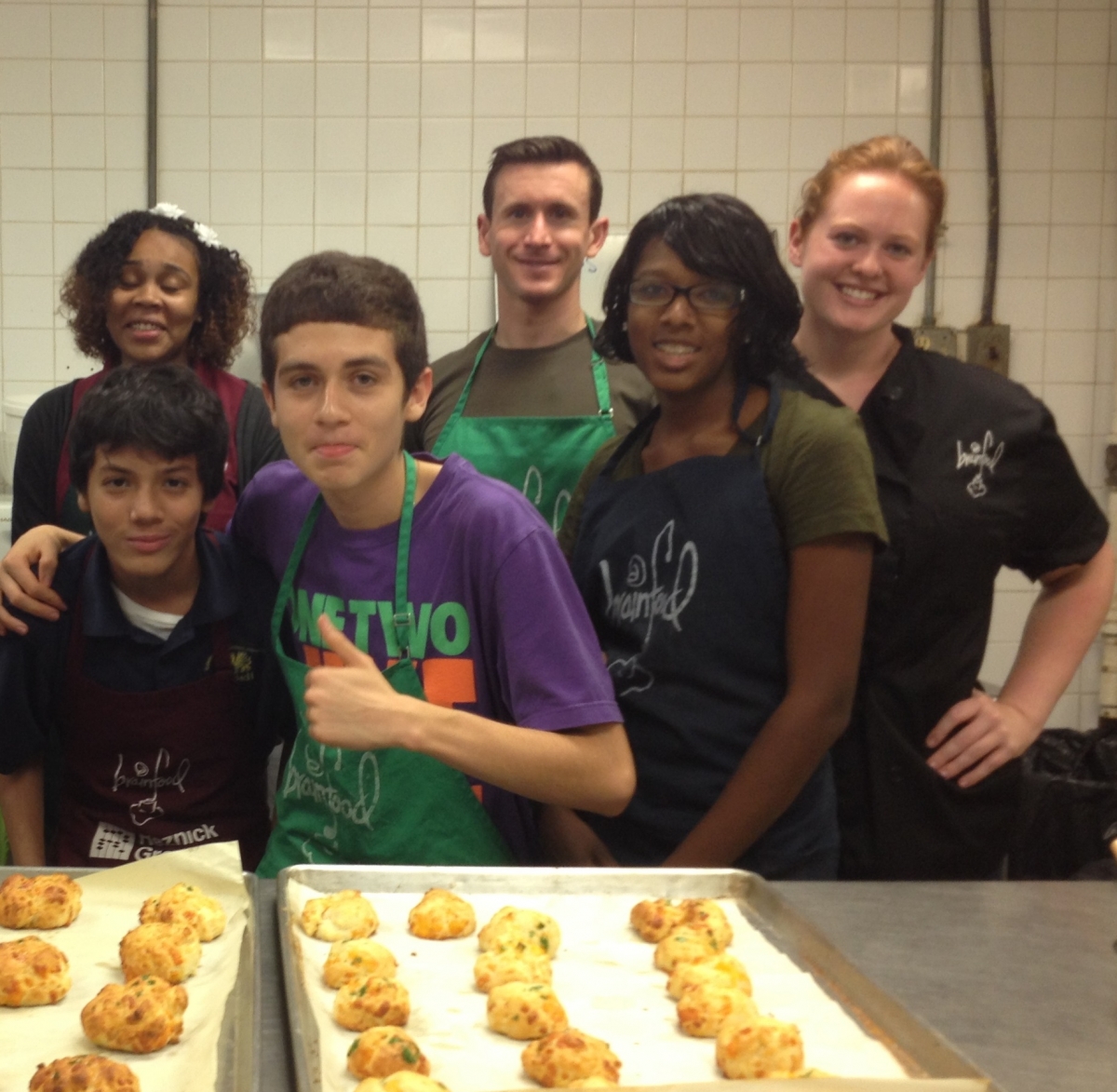 The last class of the Kitchen All Stars program is focused on plating and presentation, and it's one of my favorites for many reasons. Students work in teams to complete a cooking and design challenge, focusing on color, texture, shape, and arrangement of food in their chosen dish. Working without recipes is always a fun opportunity for students to recognize their own growth, and including a creative twist with food photography adds an additional layer of excitement. Additionally, our plating and presentation class is always paired with a brainstorming activity during which students create two lists -- first, all the cooking skills they have gained over the course of the year, and, second, all of the transferable life skills they have practiced in the kitchen. It's a joyful moment when students recognize the scope of their accomplishments.
Oh, and a favorite recipe? Corn chowder is a top contender. I'm not sure if it's my Iowa roots or the combination of fresh herbs and cream, but I never regret making it and--occasionally--sharing it with others!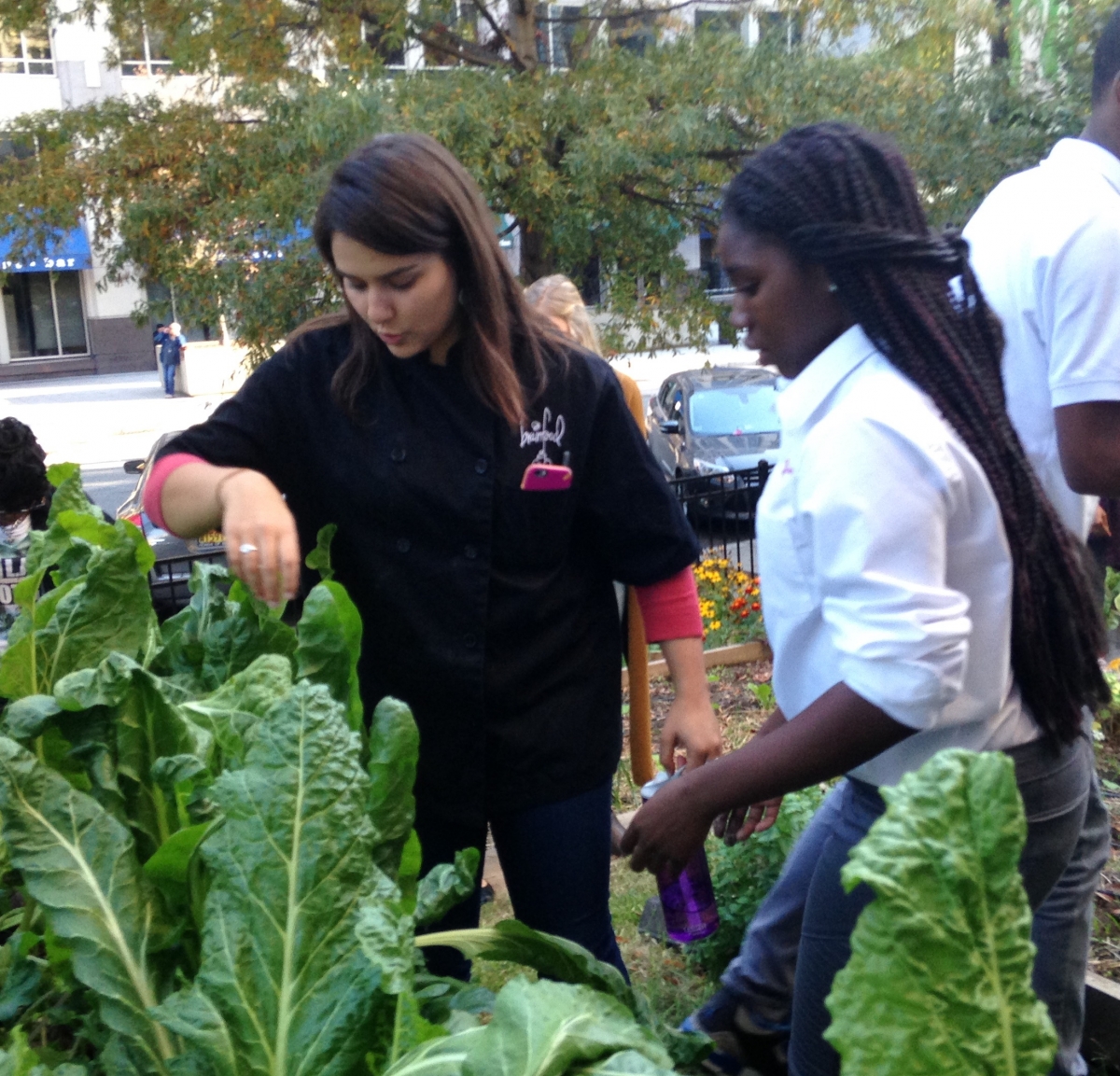 Julie Margolies, Program Associate at Chinatown
So far my favorite class to teach has been healthy baking. I really love how tangible this class is, in that we talk about the ingredients of commercially made, conventional baked goods and then identify ways in which students can choose healthier alternatives, if they desire. Using these substitutions is like a fun experiment in class, and students seem to generally like the final products!
Some of my favorite Brainfood recipes -- so hard to choose! -- include vegan apple crumble (surprisingly delicious, easy to make, easy to clean, and it surprises most students!) and spanakopita turkey/chicken meatballs (they have meat, veggies, and cheese and just strike a really nice balance of flavors).
Aimee McLaughlin, Community MVPs Program Coordinator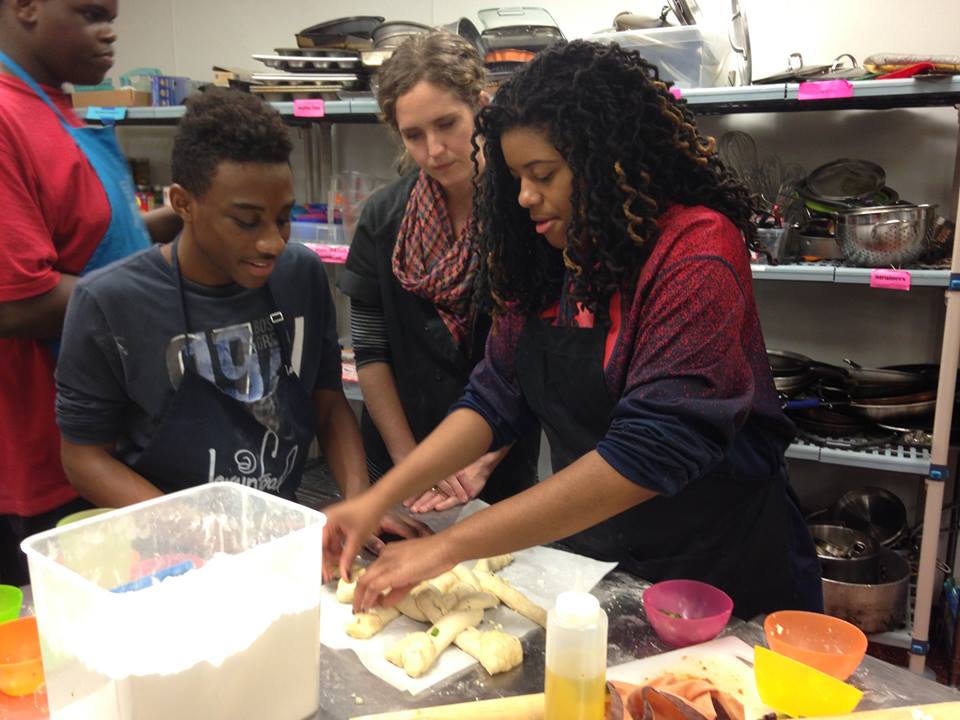 Stuffed challah bread is one of my favorite recipes to cook with our Community MVPs class. I usually ask a veteran MVPs participant to lead a demo before we start, showing everyone the braiding pattern; it's a great opportunity for youth to learn from each other. When we break into groups, there's a good bit of hesitancy and doubt as students slowly move through the motions of the braiding pattern, stopping often at first for affirmation from me, and then quickly getting the hang of it and moving with ease and confidence. The stuffed challah recipe is pretty involved and requires extended focus and persistence through each detailed step. I love seeing students help each other stay on track and offer each other motivation to keep going, even if the filling falls out of place or the braid pattern gets out of synch. If all of this wasn't awesome enough, we then get to pull the beautifully weaved, golden brown loaf out of the oven, slice it up, and devour the yeasty goodness together.