Home
Brainfood is a non-profit youth development organization in Washington, DC. Using food as a tool, Brainfood builds life skills and promotes healthy living in a fun and safe environment.
Join Brainfood on May 3rd for Derby Day at Poste!
We are so excited to be partnering with the fantastic team at Poste Modern Brasserie for a genteel Southern springtime celebration on the patio. Support Brainfood's work while enjoying festive food, drink, and Derby-themed activities with some healthy competition. And of course, Derby attire is encouraged! Tickets are available online now, and Brainfood will receive $10 from every general admission ticket and $50 from every VIP ticket. Get yours today!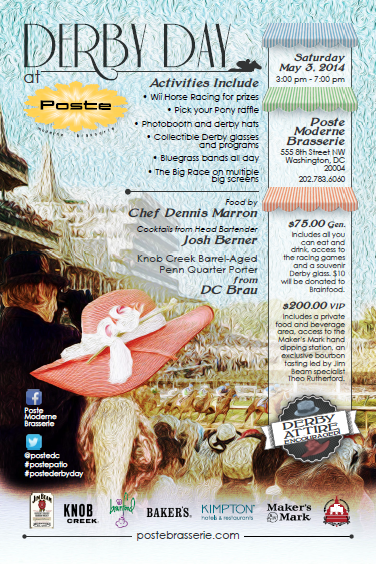 Brainfood is a 2013 Mayor's Sustainability Award Recipient!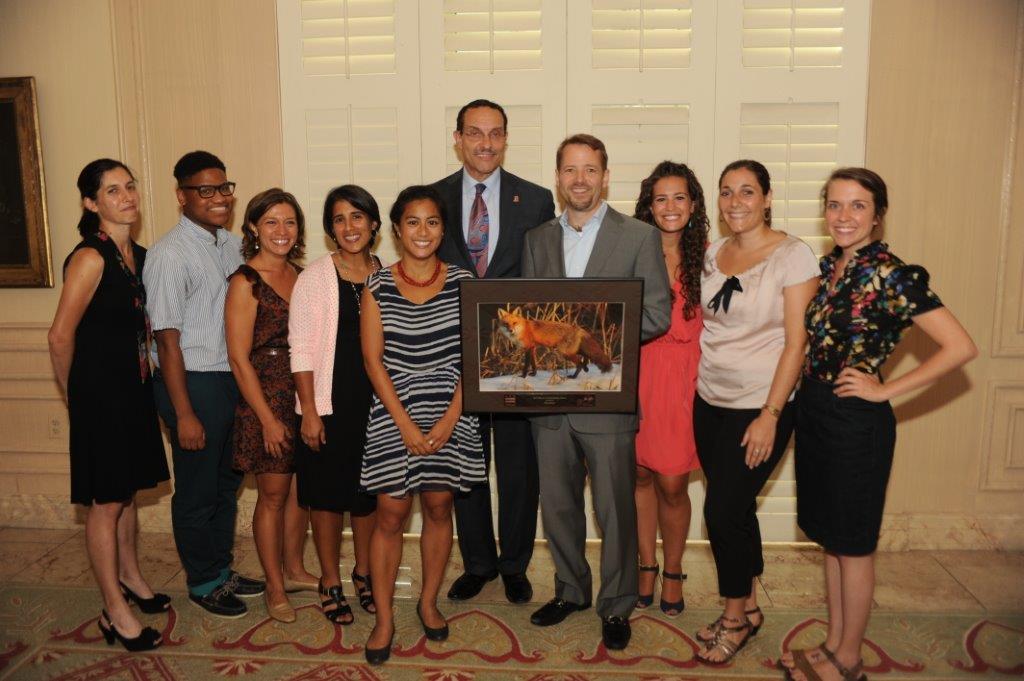 We were honored to be recognized this summer alongside other amazing organizations and individuals for our sustainability efforts. Check out our profile and read about the other winners on the Department of the Environment site.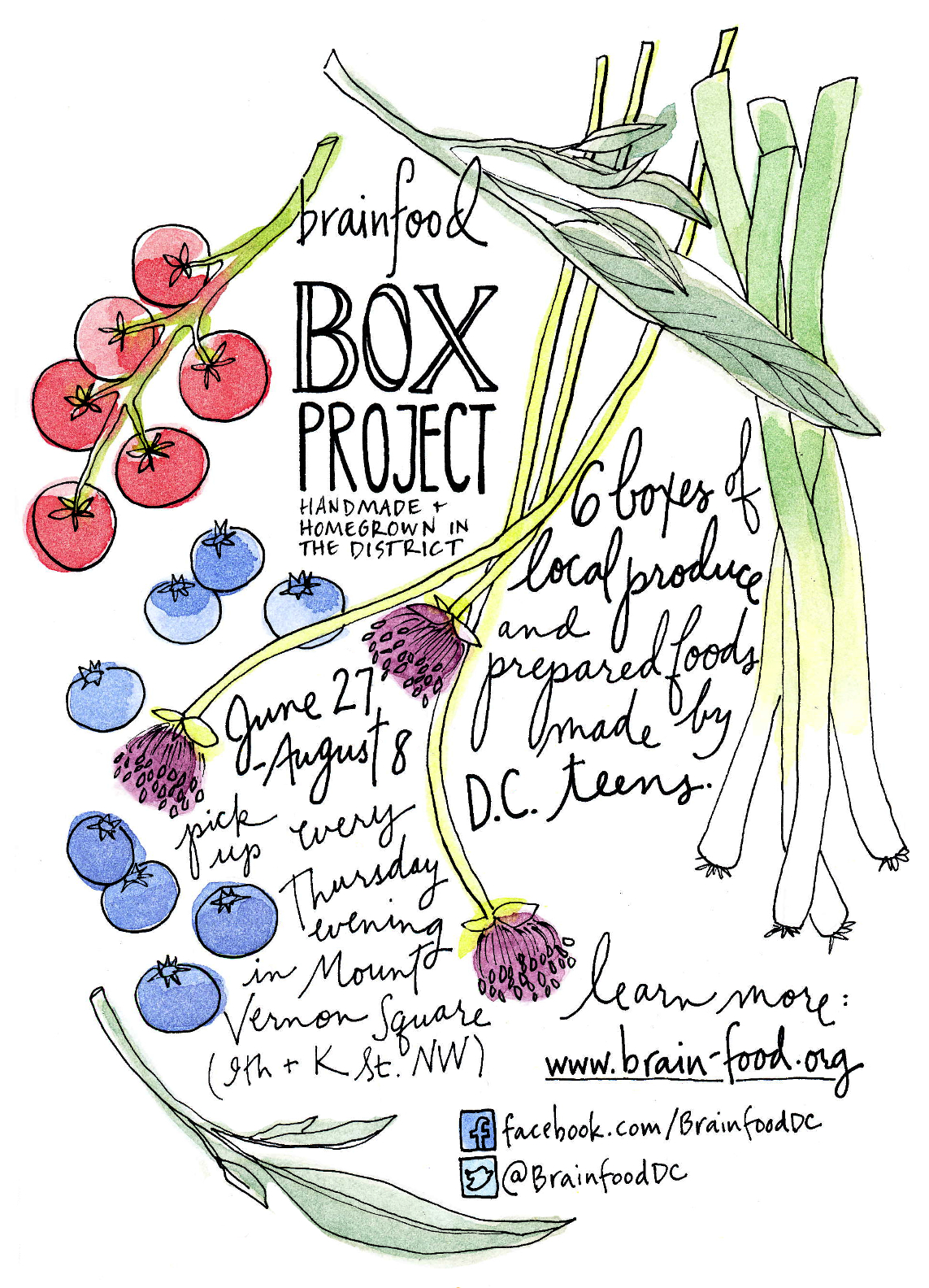 Box Project art by Jess Schreibstein

Second Fall Harvest at the Brainfood Youth Garden!
This fall was our second autumn growing season at the Brainfood Youth Garden! It's been over a year since we established a green space for our youth at our Brainfood Innovation Center at Mt. Vernon Square.
The garden offers our youth the opportunity to participate in small-scale urban food production, and garden produce is used to supply both Brainfood programs and cooking workshops led by our Community MVPs class. But growing vegetables isn't the only goal of this project.
The Brainfood Innovation Center raises awareness on youth and food issues in DC by: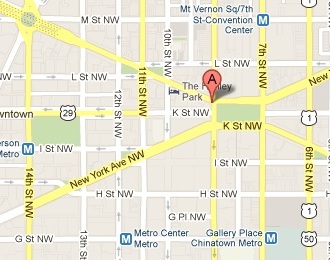 We believe that community based outreach, free or low-cost food education resources, and the creation of safe and welcoming spaces are necessary to change the way that people eat, cook, and buy their food. Expanding to the Brainfood Innovation Center is allowing us to reach even more youth and DC residents, while remaining firmly committed to our core values of community engagement and positive youth development.
Check out our fall harvest journal blog post to hear about this growing season's culinary adventures with kale, shiso, figs, and more!
How You Can Support Brainfood Programs
Brainfood Programs
Local high school students participate in our programs either twice a week after school or every day for five weeks during the summer. Activities include hands-on cooking classes, lectures, field trips and community service projects. Brainfood graduates are equipped with practical cooking skills, an introduction to the food industry, a framework for nutritious eating, and leadership experience that prepares them to make a difference in their community. Brainfood offers three programs:
Brainfood Kitchen All Stars is a year-long program (September - May) that introduces participants to learning life skills and leadership skills through food and cooking.
Participants attend classes 2 days/week (Monday & Wednesday or Tuesday & Thursday) from 4:00pm - 6:30pm.
This program is offered at our Chinatown and Columbia Heights sites.
Brainfood Community MVPs is a year-long program (September - May) where past Brainfood graduates use their leadership skills to plan, facilitate, and deliver healthy cooking workshops to the DC community.
Participants attend classes 2 days/week (Tuesday & Thursday) from 4:00pm - 6:30pm.
This program is offered at our Mt. Vernon Square site only.
Brainfood Summer Institute is a five-week summer program based on the content for our Kitchen All Stars program.
Participants attend classes 4 days/week (Monday - Thursday) from 1:00pm - 3:30pm.
This program is offered at our Chinatown site only.
Brainfood has three sites in Washington DC:
1525 Newton St. NW
Washington, DC 20010
755 8th St. NW
Washington, DC 20001
900 Massachusetts Ave.
Washington, DC 20001