Guest Chefs Galore in the Columbia Heights Kitchen!
Over one exciting week in March the Brainfood Columbia Heights kitchen was filled with guest chefs bringing new ingredients, new skills and a ton of new food knowledge for our youth!
A BIG Brainfood thank you to John Murphy (Assistant Director of Kitchen Operations at Miriam's Kitchen), Lynnette Jackson (Owner/Chef of Lynnette's Cakes and Catering), and Robert Barolin (Owner/Chef of City Square Cafe)!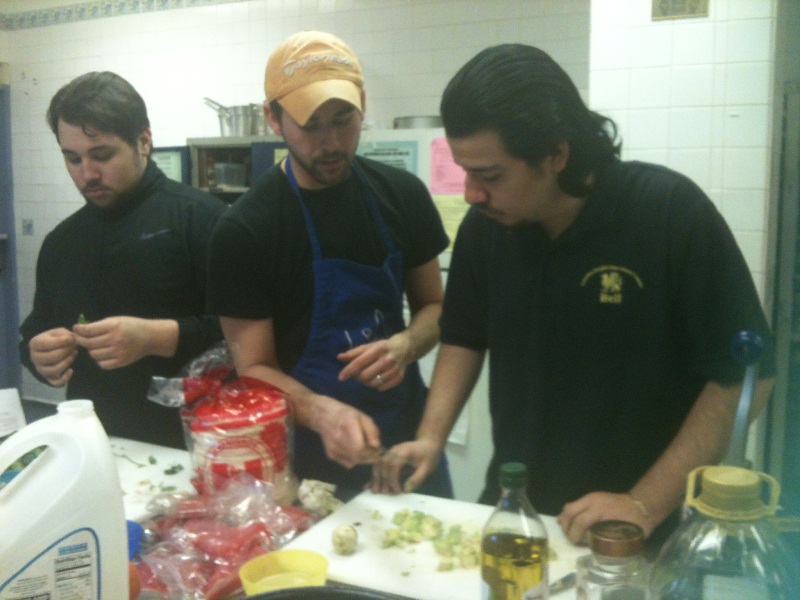 First up was Chef John Murphy from Miriam's Kitchen. John's passion for cooking started when he was very young but after years of working in professional kitchens he wanted more than just fame and turned his attention to using his cooking skills to give back to the community. He joined the Miriam's Kitchen staff and has been making healthy foods for their clients ever since. Chef John brought all the fixings to make Tuna Ceviche, Carne Asada de Puerco with cumin whipped potatoes and charred jalapeno salsa and flan. The class divided up into 3 teams, put on their aprons, and worked diligently chopping, dicing, mixing and cooking up a storm. After some good teamwork, we got a chance to dig in and enjoy! Mmm it was delicious! It was hard for the students to choose the dish they enjoyed the most but two things were obvious – empty plates and smiling faces! Thanks John!
The very next day my Monday & Wednesday class greeted Chef Lynnette Jackson from Lynnette's Cakes and Catering in Maryland. Back for her FOURTH year at Brainfood, our students were excited to get in touch with their Inner pastry chef and decorate the cakes that Chef Lynnette brought in. After a short explanation about the steps to decorating a cake (frosting with butter cream to act as the glue), she showed us how to color and roll out fondant and how to roll it onto the cake. It was then our turn to let loose and be creative. The students had a great time coming up with ideas for their cakes and no two looked the same. The students were so proud of their final products that they elected to not eat them but wrap them up and take them home to show off to their friends and family! Thanks Lynnette!
It was a double whammy for my Tuesday & Thursday as they got another amazing visitor on Thursday. After welcoming Chef Murphy in on Tuesday they were anxious for another guest chef, and Chef Robert Barolin from City Square Café in Old Town Manassas did not disappoint! Chef Barolin (back for his THIRD year) taught us how to work with shrimp and introduced us to an Italian menu of bruschetta, homemade Italian dressing, and Mediterranean shrimp. Chef Barolin is an amazing guest chef with a gregarious personality and charming accent that always draws the youth right in. It was the first time we'd worked with many of the ingredients including shrimp. You'd think our students would be a little squeamish about peeling, cleaning, and cooking the shrimp but they listened intently to Chef Barolin's directions and then jumped right in. He even let us in on a few tricks of the trade like how to enhance presentation – leave the tail on the shrimp which when cooked, turns a rich shade of pink that adds a nice flair of color to the dish. Combined with the sundried tomatoes, marinated artichokes, shallots, capers, and fresh parsley, finally tossed with penne pasta, the dish was a kaleidoscope of flavors and colors. It was one of the prettiest plates of food we've made all year (and delicious too)! Thanks Robert!
For more pictures of these exciting classes, visit our Brainfood Columbia Heights photo gallery!
- Amy